Diverse Software Tools to Address Various Layers of a Process Development Problem
At CWB Tech, we focus on delivering the bottom-line solutions to our clients. Depending on the objective of the problem and the available information and resources for solving the problem, we work with clients to develop a suitable workflow and come up with the best practical solution. The development workflow is essentially an evolutionary approach among various experimental, synthesis, and modeling tasks. The goal is to generate feasible process alternatives and operating conditions and to evaluate their merits and potential.
Click on the links below to learn more about the various software products we have to offer.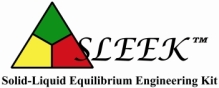 SLEEK is CWB Tech's state-of-the-art software solution for crystallization process development. It can help you build a comprehensive understanding of the solid-liquid equilibrium system, whether it is the thermodynamic model, SLE data regression, crystallization process development and many more functionalities related to crystallization. For more information, click here.
We also have a sister product of SLEEK, called SLEEK-EX, capable of measuring SLE data and incorporating them into a thermodynamic model. It supports the integrative approach which combines synthesis, analysis, and experimental activities. It is an extremely useful tool in case of lack of literature data, e.g. for new components. It enables the user gather information for modeling and process design.

The design and optimization of the distillation sequence can have a significant impact on the economics of a process. AzeoDESK offers significant value and benefit at any stage of the engineering work process, ranging from early process development studies to the retrofit of an existing process. Since AzeoDESK does not require an accurate thermodynamic physical property model, it is ideally suited for early process development studies prior to conducting experiments and simulations. The objective of AzeoDESK is to provide user the capability to obtain a starting point for both experiments and detailed flow sheet synthesis for an entrainer-effected azeotropic distillation, with a selection of fewer and reliable entrainer options. For more information, click here.
How to Order
To place an order, or for more information, please contact us by phone, or by email at sales(at)cwbtech.com.